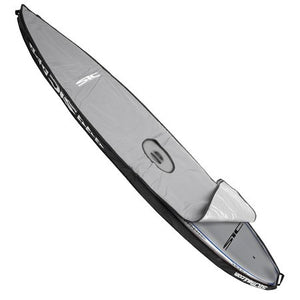 The SIC Maui Touring bag is designed to fit, store and protect your OKEANOS 12'6" x 27.0" (DF), OKEANOS 12'6" x 29.0" (DF), and SONIC 12'6" x 30.0" (AT) SUP off the water to ensure long life and allow for convenient and safe transportation. It can also be useful to keep the interior of your car or storage facility clean.
The bag is constructed using extremely durable, lightweight, and heat resistant materials to protect your board from minor dings, UV rays, and heat damage. Openings are equipped with heavy-duty marine-grade zippers to make packing your board easy and reduce the risk of corrosion. The dense closed-cell foam padding guards against dings and keep your board's temperature regulated when stored, while the reflective white paneling on the bottom guards against heat while exposed to the sun.
The bag comes with a padded and removable shoulder strap using metal hardware for increased strength and durability. This makes it ideal for day trips as it frees your hands and makes it a travel-friendly companion.
DURABLE PADDED, HEAT-RESISTANT, WATER REPELLENT, REFLECTIVE HEAT BOTTOM FABRICTo protect your board during storage and transportation
COFFIN WALL CONSTRUCTIONFor easy packing
REINFORCED NOSE AND TAILFor extra protection when transporting the board
COMPRESSION STRAPSTo sinch down and pack snugly
HEAVY-DUTY MARINE-GRADE ZIPPERSDurability and reduce the risk of corrosion. Access to the board handle
PADDED HANDLESFor carrying comfort
PADDED, ERGONOMIC, REMOVABLE, AND ADJUSTABLE SHOULDER STRAPFor carrying comfort when you need it
INTEGRATED POCKET FOR FIN, WAX, AND ACCESSORIES STORAGEFor gear storage convenience
FIN SLOTSTo allow storing your board with fins on