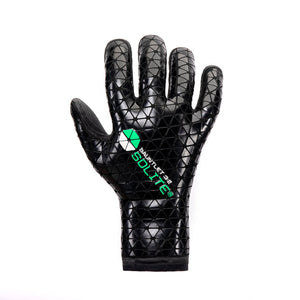 Game-Changing Gloves!
Recommended Water Temp: 45F/7C+
Sizing Guide:
NOTE: GLOVES ARE RUNNING TRUE TO SIZE THIS YEAR. USE THIS GUIDE FOR SIZING:
Our entire Solite glove line for Fall 2022-Winter 2023 has been redesigned for improved fit and flexibility along with unmatched grip, durability, and warmth. The Solite 3:2 Gauntlet Glove is designed for colder air/water temps where you want 5-finger dexterity but maximum warmth.
The 3:2 Gauntlet Features:
Tuff-Skin Palm Panel with Dura-Grip Coating
Another Solite innovation, our palm panels are laminated with a textured, abrasion resistant Tuff-Skin fabric, then layered with an incredibly grippy, water-proof Dura-Grip coating. The resulting combination is an unmatched level of secure grip, abrasion resistance, warmth, and durability. With 100% waterproof coating, the palm absorbs no water to remain lightweight, warmer (no evaporative cooling), and grippy for your entire session.
Thermal-Rebound Lining
The 3:2 Gauntlet features a unique Thermal-Rebound plush, quick-dry interior lining material. Thermal-Rebound material features a thin, flexible metallic grid-layer between the neoprene and the outer lining, reflecting body heat back to the skin for enhanced warmth. Lab tests on the Thermal Rebound laminate show an increase in insulation exceeding 10%, which extends your sessions and increases your odds of getting the wave of the day.
 Hex-Shield Back Panel
Our exclusive Hex-Shield Back Panel combines the water-shedding warmth of a unlined panel with the enhanced durability of laminated neoprene. Many gloves feature raw "mesh skin" neoprene panels which shed water for lightweight and warmth, BUT these unlined panels rip very easily without a laminate for strength. Our Hex Shield offers the best of both worlds: a durable, nylon-lined exterior with a full-panel lamination of water-proof ink. The hex-pattern print insures max flexibility while still absorbing sunlight and repelling water. All this is done in a single panel, minimizing seams for enhanced comfort, flexibility, and durability.
Overkill Seams and EZ-O Cuff
To maximize lifespan, we've utilized the most durable seam construction available. Our Overkill Seams start with a glued/blindstitched seam, with the seam on the outside for maximum comfort. The external stitching is then coated with a liquid seam seal, sealing the stitch holes and providing a durable, flexible barrier against water entry. Inside the gloves, all of the stress areas (between each finger and where the wrist joins the palm panel) feature internal taping for an even greater level of protection.
Just like our boots, our gloves integrate our EZ-O Cuff, which provides a seamless seal around the wrist but with a larger panel than all other gloves making the gloves easy on/off. Our EZ-O Cuff is also double laminated (inside and out) for max durability, whereas most other O-Ring cuffs feature a weaker non-lined interior.