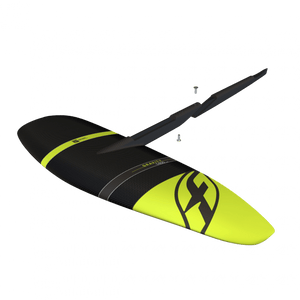 GRAVITY

 

1400
Wing/fuselage and stab only-add mast option that includes mast,top plate and titan foot.
The F-ONE GRAVITY 1400 wing is ideal to learn how to surf foil, enjoy the smallest waves and also venture on a downwinder.
Low speed take-off
Very stable
Superior glide
Area : 1480 cm3
Aspect Ratio : 4.3
ts design is a significant evolution from our previous 1200 wing
Optimized connection with our integrated Titan Connection especially developed for larger wings
new and thicker section profile for an early and very progressive lift-off
evolution of the arch and rake of the wing to best combine maneuverability and control
Design targets ease of use to surf and carve some lines:
Early lift for take-off
Easy entry into the turns for some intuitive lines
Perfect maneuverability allowing sharp turns
Total speed control to master your surf
Targeted at people who want a wing to foil on a variety of waves from small and mellow to taller and faster.
Very fluid through the turns, allowing to draw tight or long curves with good speed control and good pumping to go after the next wave.
Built with pre-preg carbon for the best weight to strength ratio, with a super light core.
Titan Connection: the wing connects directly to the mast via the Titan mast foot and the fuselage is split in two parts in order to simplify transportation. This setup offers better load transmission and better stiffness throughout the different parts for maximum control.