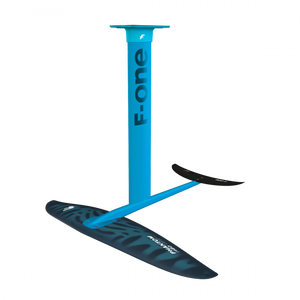 Foil, fuselage and stabilizer only mast sold separately.
The foils of the Phantom line are designed to glide effortlessly when pumping or connecting waves and then prove very agile and precise when surfing.
Speed and glide
Pumping/downwind machine
Nimble and maneuvrable
Area: 1480 cm²
Span: 96 cm
Aspect Ratio: 6.2
Alu Fuselage: 74 Surf
Ref. 77217-0823
Using a refined design to achieve higher finesse, the Phantom foils glide faster and for longer. Connecting waves whether during surfing or downwinding thereby becomes much easier and more fun. Yet, connecting waves isn't much fun if you can't turn and this is why carving is also part of the DNA of the Phantom foils. By working on the lift distribution, arch shape and other details we achieved a high-aspect, performance foil that can carve smooth curves on the waves and swells.
The Phantom wings are recommended with the R275 Surf stab made with the RTM technology. This stabilizer offers better glide and a looser feel. It's the ideal match for the speed and glide of the Phantom wings. The looser feel will help turning these higher aspect wings and provide an awesome surfing experience.